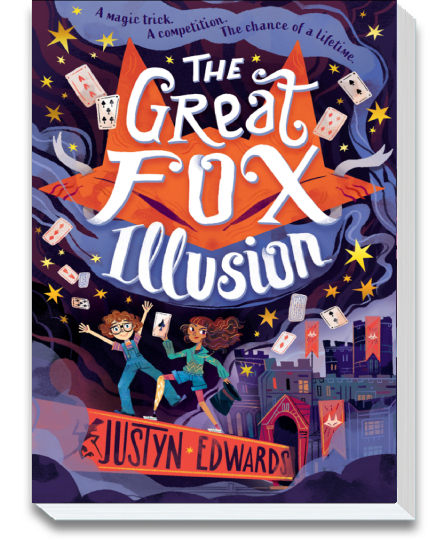 &nbsp
The Great Fox Illusion
"Secrets and illusions abound in this gripping adventure, the first in an enthralling new series from debut author Justyn Edwards."
Thirteen-year-old Flick Lions has won a place on a new television show, in which young people compete to win the legacy of The Great Fox, one of the world's most famous TV illusionists. But Flick isn't interested in uncovering The Great Fox's tired old tricks – she's after something much more important. The Fox destroyed her family, and this is Flick's only chance to put things right. Inside his house is a secret that will change the world of illusion forever, and Flick will go to any lengths to find it.
This is the first book in a new series. Out now with Walker Books, Walker Books Australia, De Fontein (Dutch), W.F. Howes audiobook (English), and Storytel audiobook (Dutch), and coming soon from Rizzoli Libria (Italian), and Éditions Robert Laffont (French).
Watch closely. The Great Fox Illusion is about to begin…
Learn more about THE GREAT FOX ILLUSION
The Great Fox Heist
"The stakes are high in this fast-paced mystery adventure starring young magician Flick Lions. The second book in the Great Fox series."
How well do you really know someone…?
Flick is a magician who needs answers. Her father is still missing, and top illusionist the Great Fox doesn't seem interested in finding him, despite his promises. Meanwhile, she and her friend Charlie must represent the Great Fox in a new competition in the Swiss town of Linth. The Global Order of Magic is electing a new chancellor, and the Fox insists that if he wins, it will help – but Flick isn't so sure. Determined to solve the mystery of her father's disappearance and of The Bell System, his greatest and most mysterious magic trick, Flick must pull off an impossible diamond heist to win. But danger lurks around every corner, and nothing is what it seems.