Justyn Edwards is not very good at nuclear physics or DIY. In fact, some of his worst moments have involved combining these interests. Thankfully, when he writes books people seem to enjoy reading them, and this is how he spends most of his time. His 2022 debut The Great Fox Illusion was Blackwell's Children's Book of the Month, listed by Waterstones as one of their Best Children's Books of the Month, a Toppsta Best Book of the Month, and listed for the Adrien Prize, the Phoenix Book Award, the Children's Literature Festivals Book Awards, the Kernow Youth Book Award, and the Dudley Children's Book Award. It is already being published in several languages, and there is more exciting news in the pipeline.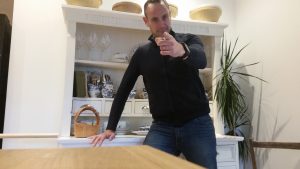 Justyn lives in Cornwall with his wife (+) and two cats and has managed to retain many of his own teeth. These also live in Cornwall.
+NOTE: Justyn's wife is an actual human and not imaginary in any way.
Justyn is currently editing the third book in the Great Fox series and, after a strong cup of coffee, is about to start on a new project. Please keep him away from DIY by purchasing The Great Fox Illusion below. Future generations are counting on you to act without delay.
'Yes it's magic, but not the kind you usually find in kid's books! A really clever idea, fascinating to read & lead characters to like & care about.' Heath Books
"A page-turning mystery about family, friendship and magic tricks, told with real panache and pizzazz." Christopher Edge
"This book did a vanishing trick on me – I didn't reappear until I'd read the very last page! A spectacular, page-turning mystery that will have you guessing until the very end. I can't wait to see what other stories Justyn Edwards has up his (magician's) sleeve!" Clare Povey