Read the first three chapters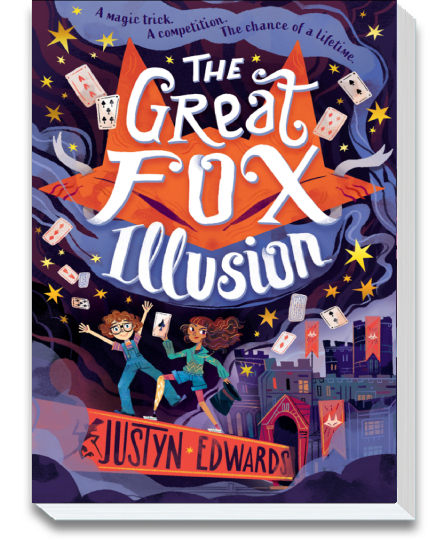 The Great Fox Illusion
"Secrets and illusions abound in this gripping adventure, the first in an enthralling new series from debut author Justyn Edwards."
Thirteen-year-old Flick Lions has won a place on a new television show, in which young people compete to win the legacy of The Great Fox, one of the world's most famous TV illusionists. But Flick isn't interested in uncovering The Great Fox's tired old tricks – she's after something much more important. The Fox destroyed her family, and this is Flick's only chance to put things right. Inside his house is a secret that will change the world of illusion forever, and Flick will go to any lengths to find it.
This is the first book in a new series. Out now with Walker Books, Walker Books Australia, De Fontein (Dutch), W.F. Howes audiobook (English), Storytel audiobook (Dutch), and Rizzoli Libria (Italian), coming soon from Éditions Robert Laffont (French).
The second book in the Great Fox series will be out in the UK in April 2023.
Watch closely. The Great Fox Illusion is about to begin…
Praise for The Great Fox Illusion
'Yes it's magic, but not the kind you usually find in kid's books! A really clever idea, fascinating to read & lead characters to like & care about.' Heath Books
'This is a really great read that I couldn't put down.' Five stars NetGalley review
'Reading this brilliant book is like opening a magician's box of tricks and discovering their secrets for yourself. ' Thomas Taylor
'Such a page-turner – it is innovative, exciting and filled with possibilities.' Check 'Em Out Books